Latest News:

Oh joy! My box of author copies arrived this week. Fot an author, it is always such an exciting moment to open the box and see her/his books for the very first time.
* * * *
If you are on Twitter, you may like to know that I have set up a new account for myself as Polly. Here it is - I hope you'll pop across and follow me. If you do, please say hello! (Just to avoid any confusion, yes I do still have the Susanna Bavin account on Twitter.)
* * * *
A 3-volume set of The Surplus Girls, The Surplus Girls' Orphans and Christmas with the Surplus Girls will be released next February. Here is the link to Amazon if you'd like to take a look.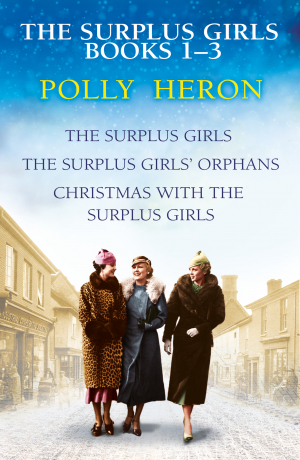 * * * *
I'd also like to remind you that Christmas with the Surplus Girls is available to request on Netgalley. I hope that those of you who use Netgalley and who love sagas will ask if you can read it. One reviewer said: "Such a joy to read.... This series is turning into a remarkable collection." I was so proud when I read that.
If you would like to request it, here's the link to the Netgalley page.
* * * *
And do take a look at my new Christmas with the Surplus Girls page by clicking on the tab at the side. I've also added a new page about the book covers.

* * * *
| | |
| --- | --- |
| For UK readers, The Surplus Girls is priced at 99p on Amazon for the month of September. | And for those of you who live Down Under, The Surplus Girls' Orphans is $2.79 on Australian Kindle during September. |
Wonderful neh y special to share wit

* * * *
* * *

Here is a quick link for you to my Author Page on Amazon UK.