Latest News:

My editor at Corvus has now read book 2 in the series and has sent me her notes. There are no major changes to make (phew!). It's more a question of adding bits to bring out certain aspects of relationships.
I have nearly finished writing book 3 - yes, book 3 - of the series. The heroine of book 3 is Nancy, who knows that a better job will enable her to help her family, even though she would much rather carry on working in the pie shop than be sent to business school. Book 3 is a Christmas-themed book, which is something I have been keen to write for ages.

| | |
| --- | --- |
| | Here is The Surplus Girls on the shelf in Sainsbury's. I'd like to say a huge thank you to the readers who have sent me shelfies, like this one. |
The audiobook is read by Julia Franklin, who is also the reader for my Susanna bavin books.

You can request it from your public library on CD, MP3 and possibly as an e-book. Audible listeners can purchase it to add to their personal libraries. Click here.
h

The Surplus Girls has already featured on a Best Books list. Take a look here. You will need to scroll down to the bottom of the page.

Here are my publication day flowers. Aren't they gorgeous? To find out more about publication day, click here to visit my blog.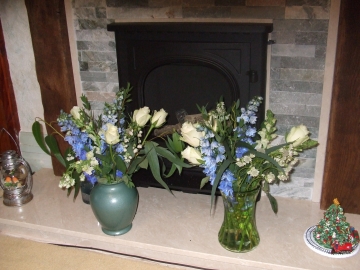 h

Which is more important - plot or character? On the Waggy Tales book blog, I chat about this and other aspects of my writing. As well as The Surplus Girls, I talk about one of my Susanna Bavin books, The Deserter's Daughter.
On psychological suspense author Linda Huber's blog, I talk about my writing routine and the themes that drive the stories in The Surplus Girls series.
In a blog interview with Jan Baynham, we chat about planning a series and what makes a good question for a book group.
Here is my article in Frost Magazine about The Surplus Girls series, including a cautionary tale for anybody contemplating changing their name!
hHere is my article in Frost Magazine

In a blog interview with Tara Graves, I talk about how NaNoWriMo helped get The Surplus Girls written, how I organise my work and why I wish I was better at writing blurbs.
* * * *
To find out how two important characters in The Surplus Girls spent nearly 20 years flitting from book to book until they found their natural home in The Surplus Girls, click here to be taken to my Susanna Bavin blog.
* * * *